Handcrafted Collection
Introducing our stunning handmade, hand-painted bauble! This unique ornament features gorgeous flowers that bloom against a sparkling glitter background. The perfect addition to your holiday decor, this bauble will add a touch of glamour and elegance to your tree. Each one is carefully crafted with attention to detail, making it a special and one-of-a-kind piece. Hang it on your tree or use it as a decoration around your home – either way, it's sure to make a statement. Add this beautiful bauble to your collection today!
All Our Products are Hand-Painted, made from Recycled Paper.

Size 3 inches for all Baubles and comes in beautifully crafted individual Boxes.
Material : Recycled Paper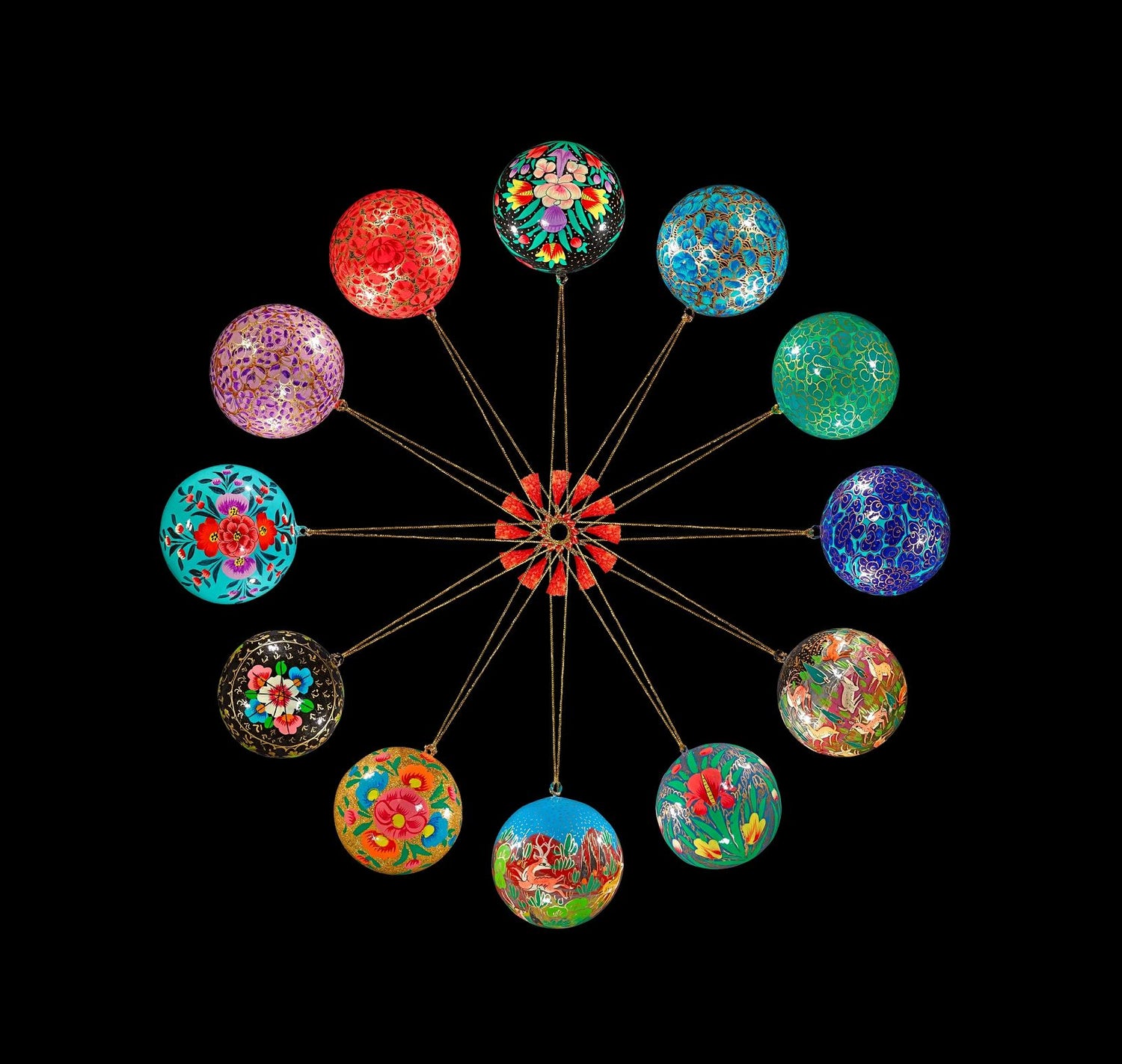 Santa's Helpers - 12 Bauble Gift Set Handcrafted
A perfect christmas gift for your loved ones. Choose any 12 from our beautiful collection of baubles for a bargain deal!
We will provide you a collection of best sellers unless you specifically ask for your selections.
Buy Now
Assorted Stock
The price displayed is for single handcrafted bauble. Customers can order as many as they like in assorted collectionOur assorted stock is a combination of all our designs and styles. You can order the stock at discounted prices as its the best value for decorations and Christmas tree. If you wish to make an order, please specify colours/styles that you are interested in and we will do our best to handpick the perfect baubles for you!  We will be able to provide matching colours in case a specific choice is not available.
Our Products

We at Honest-Love our Planet, aim to be your eco-friendly destination for exquisitely, hand-crafted,  papier-mâché products. We strive to offer our customers the most beautiful ornaments at a fair price, and with outstanding customer service.  Protecting our planet by creating products that have a minimum carbon footprint is KEY to our ethos.




Each item is 100% biodegradable, handcrafted from recycled paper, and then hand-painted using plant-based, organic, natural dyes and paints. Due to the nature of handmade products, despite having similar designs, patterns and colours, you will find that each item is unique.

More than Just a Store

When you buy from us, you are not only gaining a beautiful product, you are also helping change the lives of our skilled Kashmiri artisans. 




Additionally, by choosing a biodegradeable item for your home, you are making a stand for our planet, saying "No more" to wasteful and damaging plastics. 




We want to bring our customers into our Honest community, we are open to all ideas that you may have to help make us more ethical, sustainable and worthy of your custom, so do feel free to get in touch!

Our Creative Team

We work with a community of Kashmiri artisans and exceptionally skilled craftsmen, providing sustainable and fair work in a historical, yet unstable, country.




Consideration of low-energy consumption goes into every detail of the operation, right down to maximising people's ability to work from home. This is important during the freezing Himalayan winters, when families need to support themselves but have difficulty travelling to and from work in the heavy snow and cold weather conditions. 

This also means that during the frequent periods of civil unrest, in the Kashmir region, our artisans are also able to continue to work despite crippling curfews when access to essential needs becomes difficult.